Beginner Surf Camp Morocco
Ready, Set, Surf: Beginner Surf Lessons in Morocco
You wonder what it's like to ride a wave? You're dying to know what that "flow feeling" is that many surfers rave about? A relaxed surf lifestyle is exactly what you're looking for on holiday? Then pack your swimsuit and sunscreen and come to our Beginner Surf Camp in ever-warm Morocco.
We can almost guarantee that once you're on a surfboard, you won't be able to get away from surfing anymore. Why? Because surfing stands for a lifestyle that combines being in nature, doing sport and being part of a community. Oh yes! Surfing is fun, freedom and friendship!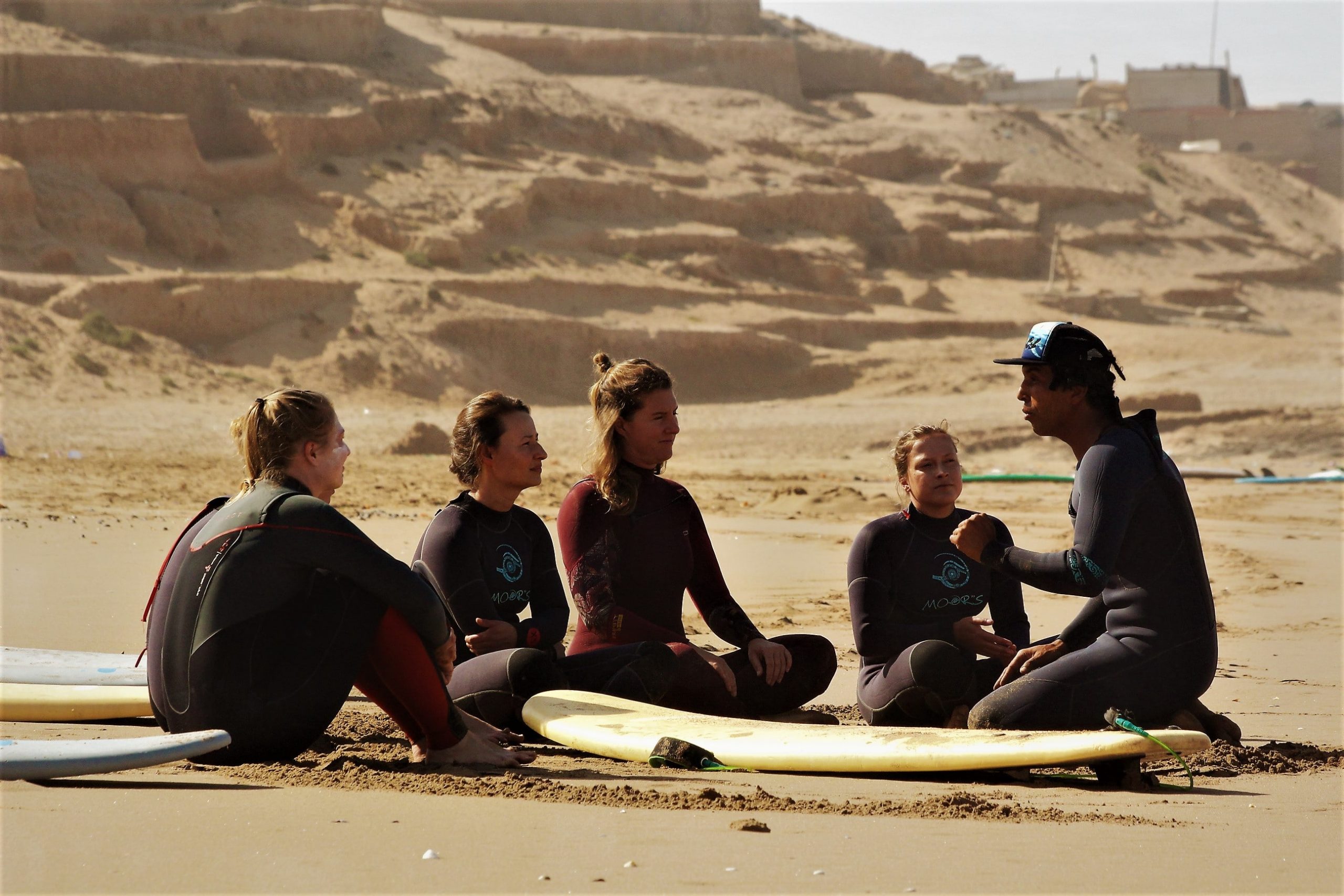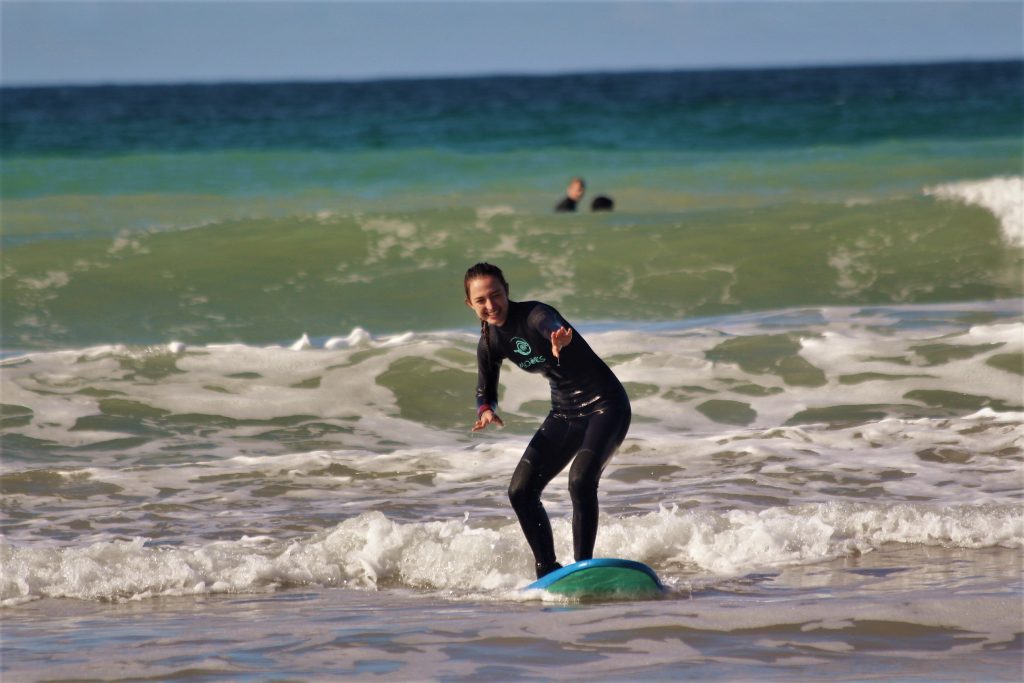 Why Morocco Is Perfect for Surf Beginners
Whether you're new to surfing or already have some experience, the west coast of Morocco and the surf spots around Agadir are your place to be. Here you'll find perfect waves all year round, making it easy to get started. The surf beaches meander all along the coast. And our surf instructors make sure that they take you to the best spot of the day.
The most important thing when learning to surf in our beginner surf lessons in Morocco is to enjoy the exercise and be ready to dive not only into the ocean, but in the warm Moroccan culture and surfing community.
Your Surf Lessons With Locals
Okay, let's just tuck the board under your arm and jump into the water? Unfortunately, it's not quite that simple. Tides, currents, winds – the sea has its very own rules. You'll get to know them right away and directly on the beach in our Beginner Surf Camp. Our surf instructors grew up around Agadir and have spent almost more time in the water than on land.
Their superpower is to infect you with their passion for surfing and to show you how to stand on the board in no time – even if you never surfed before. How they do it, you ask? With years of experience, unique teaching techniques and personal commitment to each camp member. Not to forget: with a good dose of humour.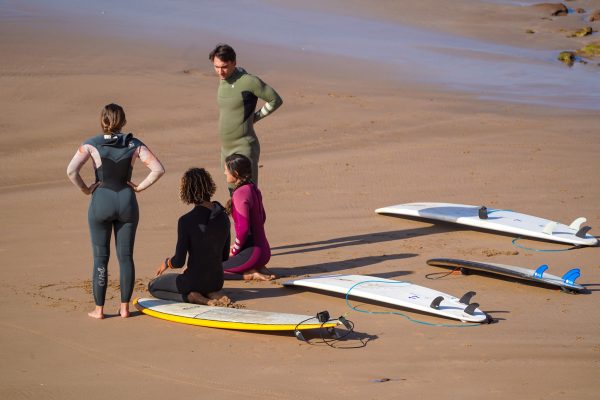 "Everything was just right from start to finish. Great accommodation, super surf instructors and equipment, perfect waves (even for complete beginners), plenty of sun, delicious and healthy food, extra excursions, Moroccan cooking class, secret surf spots and much more."
Maren
"Super surf holiday with great surf spot selection and the best tips in the line up! Thanks to Yasir for the great support surfing the beautiful waves of Morocco."
Sophia
"The surfing was really great. We actually went to a different spot every day and had mostly fantastic conditions. The surf instructors were very dedicated, taught us a lot, and it was always very fun, also because they are up for any little joke. The surfing couldn't have been better."
Thomas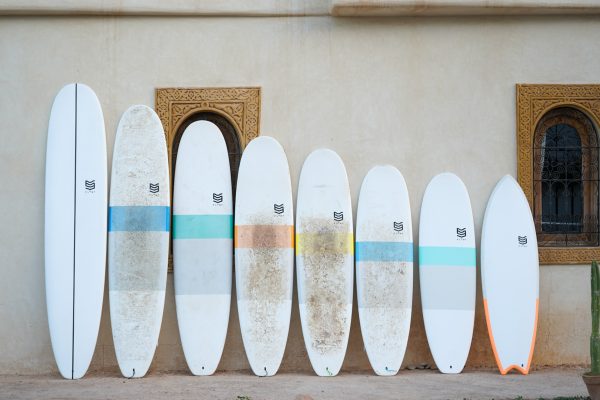 Your Surfing Equipment: Everything You Need to Surf
In our Beginner Surf Camp, we provide you with high-quality and well-maintained equipment. You will receive a suitable wetsuit (we are the first official Hurley Surf Camp!) and a beginner's surfboard, which is a great fit for your first surfing attempts.
If you are not staying at our Riad, we will pick you up at your accommodation in the morning with our surf shuttle and pack what you need for you. We don't want you to worry about getting the right equipment and the size of your luggage. Just bring yourself and your holiday spirit.
Your Day at the Beginner Surf Camp in Morocco
What does a typical day at our surf camp look like? Well, let us show you, so you can get into that holiday feeling already. As every day brings different conditions for surfing, the exact times can vary slightly. 
Important for you to know: This is what a day could look like. If you need a day off from surfing, you can also relax under the Moroccan sun or do one of our many other activities.
from 8:00 Breakfast With a View
You start the day with a Moroccan breakfast buffet that we prepare for you on our beautiful roof terrace. Tea, coffee, muesli, bread, hummus, amlou, freshly squeezed juice and other snacks will get you fit for the day. From the terrace, you can already catch the first glimpse of the sea and start looking forward to a sporty day.
9.30 Off to the Surf Spot!
We load our surf shuttle together and take you to the "spot of the day". 
10:00 Warm-up & Technique Training
A few exercises on the beach will wake up your body and prepare your muscles for the movements in the water. As a beginner, you will learn important techniques like paddling and standing up on the board, on land first. Without the wobbling water underneath your board, it's easier for you to memorise the movements. Then it's off to the waves – your surf coach is always just a few metres away and will help you at all times.
12.30 Lunch Time
Learning to surf is exhausting and burns up your energy reserves pretty quickly, especially in the beginning. Especially as a beginner, you will quickly notice that suddenly muscle groups are being used that you might not have known before 😉 To recharge yourself, there is a delicious picnic on the beach that our chefs prepare for you in the morning and you can pack as you like.
13:30 Guided Freesurf Session
Now it's time to practise, practise, practise. At the beginners' surf lessons, you can use the afternoon to internalise what you learned in the morning under the supervision of our surf instructors, who will capture your first surfing attempts on camera.
16.30 Back to Camp
In the afternoon, we finish the course and start our journey home. At this point you will probably feel very tired – the good kind of tired 😉 
That's why we have set up many places to relax and unwind at the Riad. By the pool or on one of our terraces, you can give your bones a well-deserved rest. If you feel like stretching, you can also join in with yoga.
19:00 Food, Food, Food
Every day, our kitchen team goes all out to delight you with traditional, eclectic dishes of Moroccan cuisine. Our large table is the perfect place to share your progress, successes and even small failures in the water over good food. At the same time, you can watch a wonderful sunset.
The Beginners Surf Camp Includes the Following Services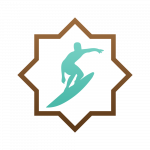 Select & book a surf package