LOOKING FOR THE BEST SURFSPOTS IN MOROCCO?
Then take a look at our Surf spot Guide! We reveal here the best spots in Morocco for surfing, kite surfing, and windsurfing.
In our surf spot guide, you will also find important information on wind and weather conditions, for example, the wind direction at the spots, as well as a short description of the place and an overview of the infrastructure.
To make things even easier for you, and to quickly get an idea of the surf spot on site, we have integrated all surf spots into a small gallery!
PS: Of course, we know all Moroccan surf spots personally and have tested
them as well as the waves there thoroughly!
On the overview map, you will find all the surf spots in our area!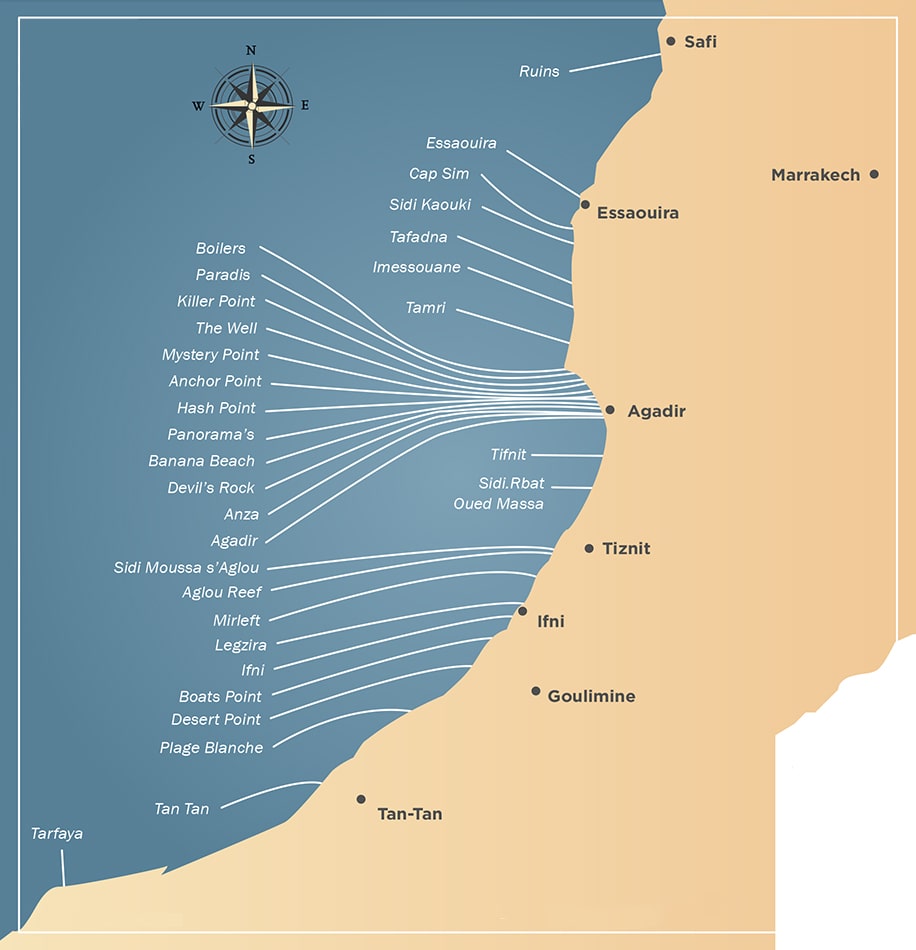 THE MOST POPULAR SURFSPOTS
KILLER POINT – THE LONG WAVE
Another famous righthand point break in the land of rights, Killer Point is named after the Killer Whales that can be seen here in summer. It's one of the most consistent surf spots in the area and has a lot to offer, from speed sections, long walls to barrels.
Killer Point picks up a bit more swell than Anchor Point and can be surfed in anything over knee-high. When it's small the wave starts at the north end of the cliff with a short left and a sectioning right, then as the swell fills in you will see the sections start to link up for some epically long rides.
It's surfable on all tides but works best at low when you can walk along the cliff to get to the first section, otherwise, it's a long paddle out from the beach. The paddle does seem to put people off surfing here so it's rarely crowded, but it's a great reward for those willing to make the 20min paddle.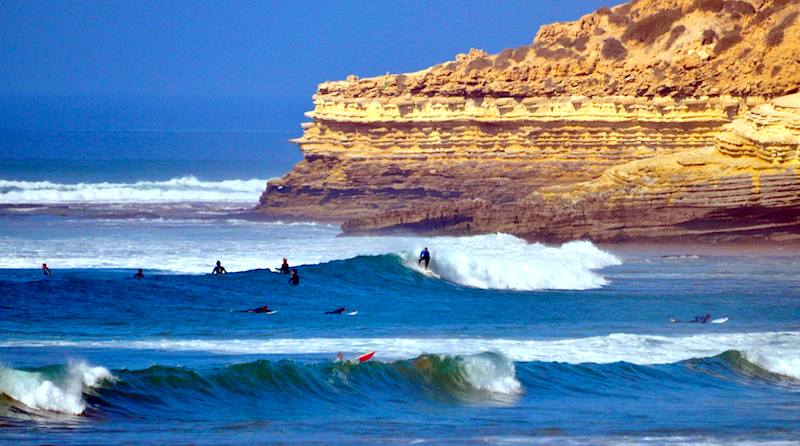 FACTS & FIGURES ABOUT THE KILLER POINT
Wave type: Right pointbreak
Seabed: Sand and rock
Level: Advanced
This long sweeping righthander sits right on the edge of Taghazout and breaks into a nice beach. On low tide the point is a very fast wave with multiple sections, some can barrel and some are unmakeable. As the tide fills in the wave gets a lot easier and mellow making it great for intermediates and beginners. The beach can be very forgiving and good for learning on high tide.
The current can be tricky to paddle against at times with water pushing down the point into the beach. Sometimes it's better to jump in from the point, surf down to the beach, walk around, and do it again.

FACTS & FIGURES ON THE PANORAMA POINT
Wave type: Right pointbreak
Seabed: Sand
Level: All levels
This spot is right in front of our camp and can be seen from the rooftop terrace. The beach isn't rocky so it's great for beginners and the various lefts and rights are also fun for the more advanced surfers. The name comes from the headland to the north that resembles a crocodile.
Wave type: Beachbreak
Seabed: Sand
Level: All levels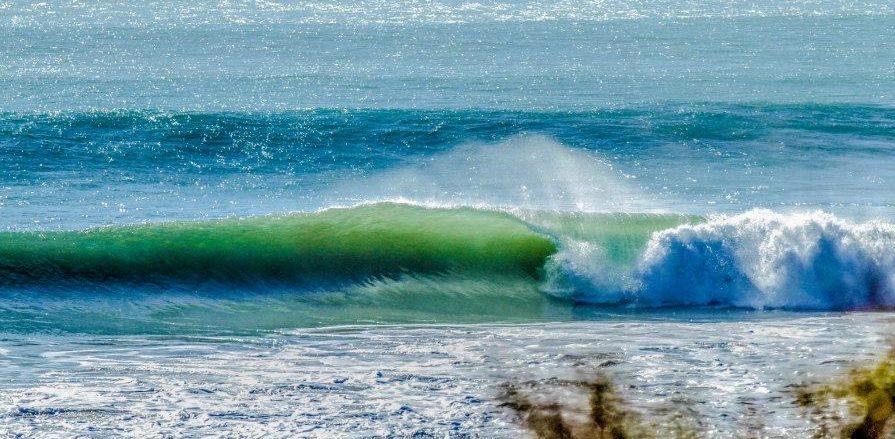 Beachbreak Devil's Rock is just a short walk away from our camp is the beach break Devil's rock. Contrary to its name, Devil's rock is suitable for beginners as well as professionals with its peaky rights and lefts that break over a sand bottom. It's here that they hold the surfing championship title each year.
After your session head to the nice fish restaurant "Brahim" which invites you for delicious coffee, healthy salads, super-tasty fish plates, and a lot more.
DEVIL'S ROCK: THE PERFECT GREEN WAVE
FACTS & FIGURES ABOUT THE DEVILS ROCK
Wave type: Beachbreak
Seabed: Sand
Level: All surfers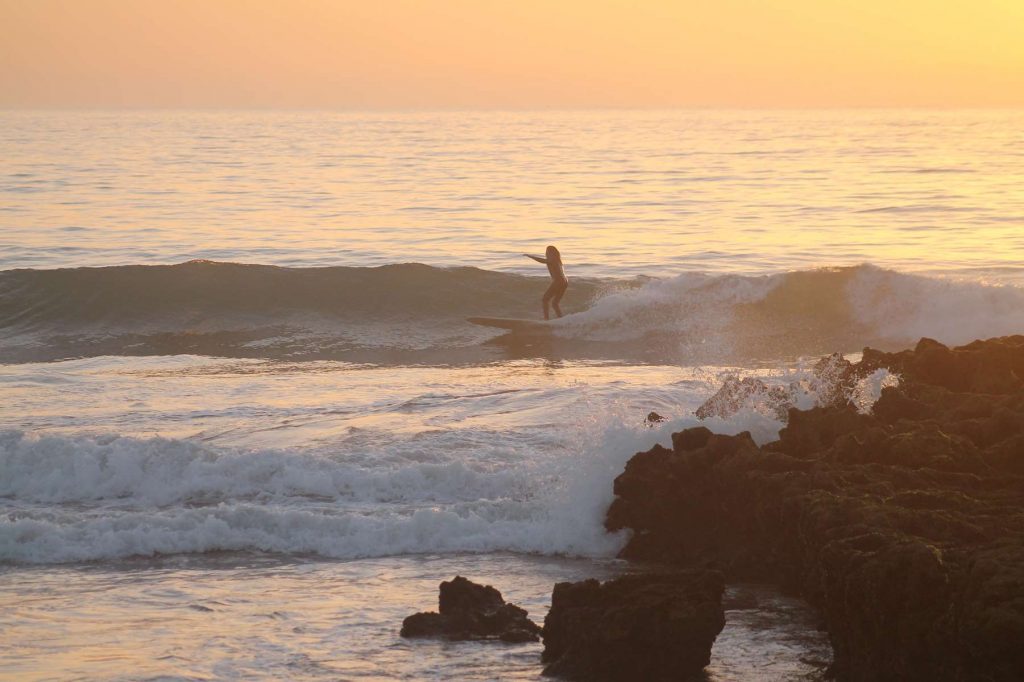 Tifnit is a picturesque small fishing village approximately 30 minutes south of Agadir. The waves here are perfect for all levels and with nobody else in sight, it's well worth a surf trip.
Wave type: Beachbreak
Seabed: Sand
Level: All levels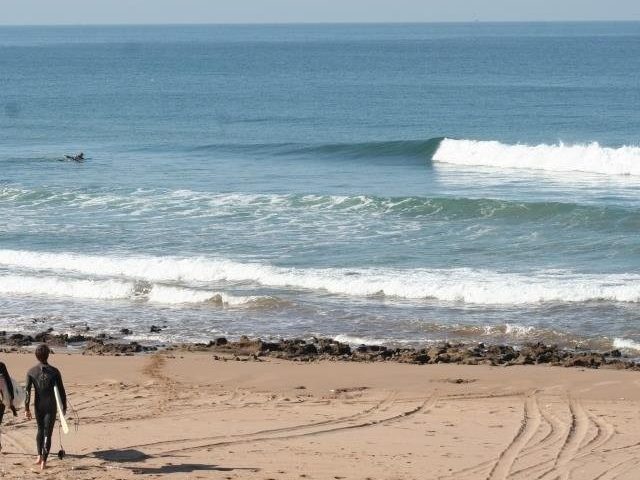 Anchor Point is one of the best and most popular surf spots in Morocco, especially among the locals. Many refer to it as "the best wave in Morocco". You can find Anchor Point about 1 km north of Taghazout, the mecca of surfing.
At low tide, Anchor Point works especially well, with long walls and barrel sections! In Taghazout, you can find everything you need before, during, and after your surf: surf shops, cafes, bars, discos, and even a supermarket! 😉
Anchor Point is one of the classical right-hand point breaks that turn on in a large North West Swell. Caution: the spot is not suitable for every level of surfer because it requires quite a bit of skill. However, beginners can find many other easy beach breaks close by.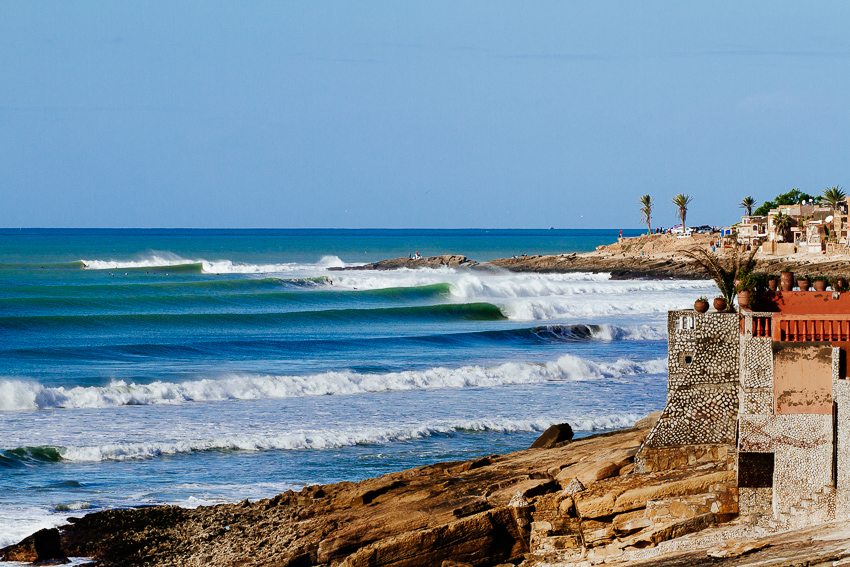 FACTS & FIGURES ABOUT THE KILLER POINT
Wave type: Right pointbreak
Seabed: Sand and rock reef
Level: Intermediate, professionals
Owes its name to the banana plantation growing along the riverbed. This mellow and easy right-hand point is fun for all levels of surfers and is loved by longboarders.
Hungry from all the surf? Banana Village is famous for its delicious tajines!
FACTS & FIGURES ABOUT THE BANANA POINT
Wave type: Right pointbreak
Seabed: Sand
Level: All levels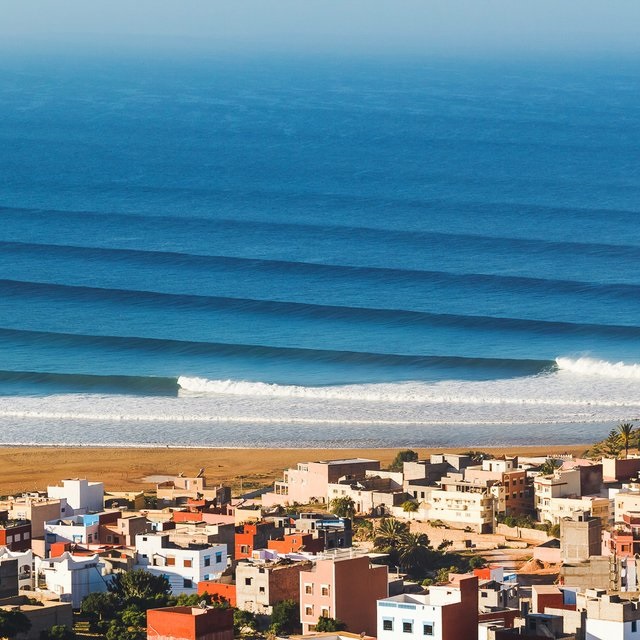 This powerful and consistent righthander is named after the old shipwrecked boiler which sits at the start of the wave. Located 35 min north of Agadir, the vertical lips and speed walls are held up by the trade winds that funnel down the mountains. Best surfed during low tide this spot is recommended for experienced surfers only, as the fast often tubular waves end on a strong shallow reef. Getting in and out can be tricky due to the urchins and sharp rock shelf. Ask the locals for advice before jumping in.
FACTS & FIGURES ABOUT THE BOILERS
Wave type: Right pointbreak
Seabed: Sand
Level: Advanced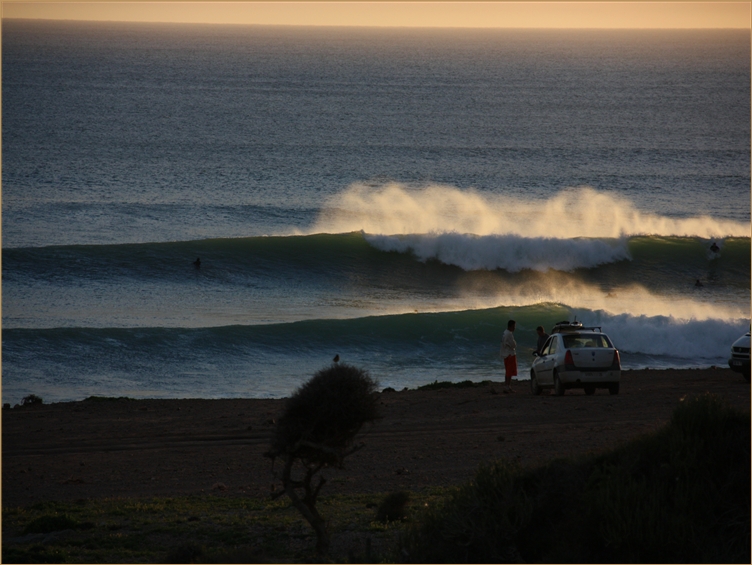 Tamri is a beach break north of Agadir, about a 45-minute drive. It lies directly between the surf spots Boilers and Immesouane and is suitable for both beginners and advanced surfers.
Tamri is a very consistent beach break with varying peaks and always good waves – even on flat days! As a beginner, however, you should be careful, as there can be dangerous currents from time to time. Therefore: Do not jump in alone!
Tamri's waves are mostly surfable and very constant even in summer, despite being windy.
Surf schools and rental stations are available in sufficient numbers.
FACTS & FIGURES ABOUT TAMRI
Spot type: Beach break
Subsoil: sand
Level: beginners, advanced, professionals
Tide: All Tides
Imsouane is a small fishing village located approximately 1.5 hours drive north of Agadir. It is home to one of the longest right-handers in the world, offering rides over two minutes long! During low tide, the long, mellow rights wrap around the port into the well-protected south-facing bay. This highly consistent spot is a surfer's paradise, great for beginners, intermediates, and a dream for all longboarders! With bigger swells it can get world-class, offering huge long walls and even barrel sections.
When the swell drops or if you are looking for waves around high tide check the Cathedral on the other side of the bay. The Cathedral is a point break with a beach that also offers several well-defined peaks.
Imsouane is a quiet fishing village that is becoming more and more popular with surfers. It is well known for its fish which you must try while you are here. In the evenings you can hang out in the Auberge Tasra and listen to Gnawa music, a nice end to a long day surfing.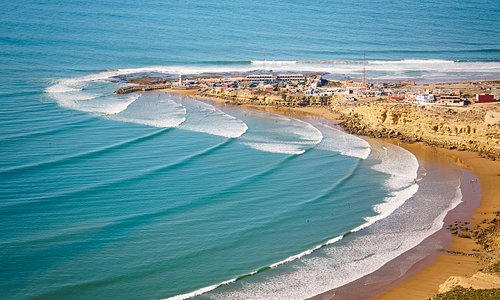 FACTS & FIGURES ABOUT THE IMSOUANE
Wave type: Right pointbreak
Seabed: Sand
Level: All levels