LOOKING FOR THE BEST SURF SPOTS IN MOROCCO?
Does Morocco have surf spots to offer? You bet it does! Morocco's Atlantic coast is over 2,000 kilometres long and a treasure chest with a double bottom for wave seekers. From shallow beach breaks for beginners, to the longest wave ride in Africa, to the turquoise dream tube – truly every surfer will find pure ocean bliss here. Sit back and get into the flow. Check out our surf spot guide for all the info on locations, wind and weather conditions.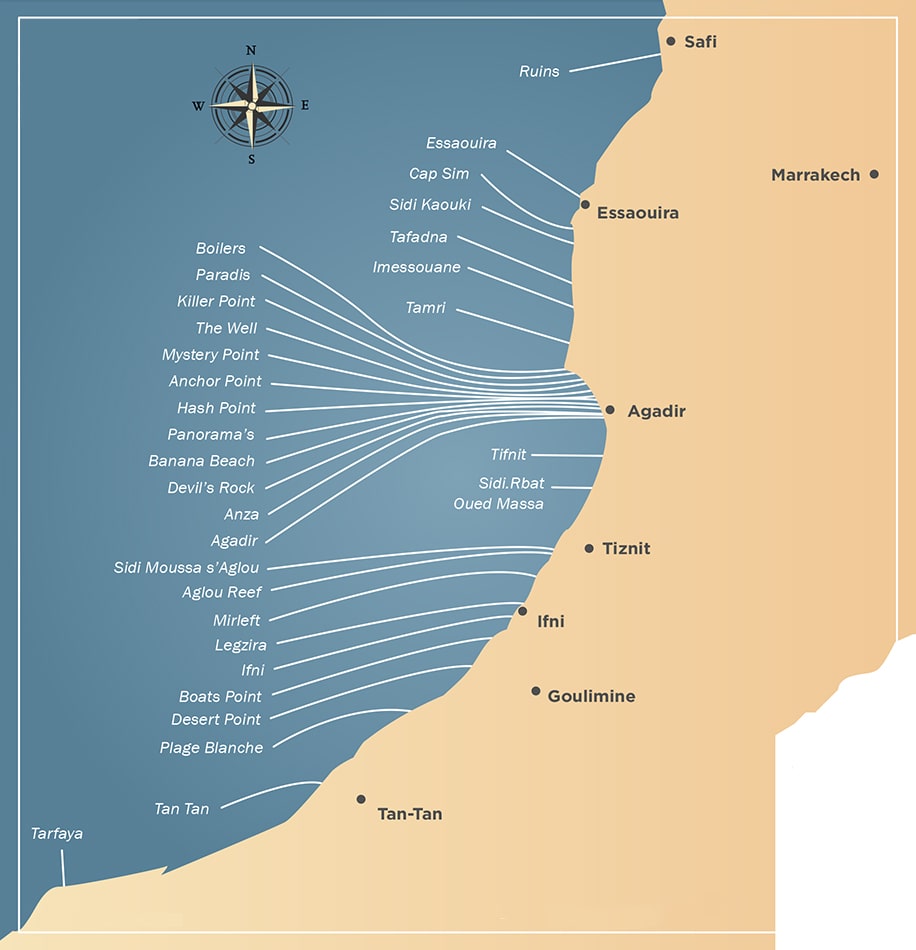 THE MOST POPULAR SURF SPOTS
Surf Spot 1: KILLER POINT – THE LONG WAVE
A long right-hander awaits you at Killer Point, so named because killer whales pass by here from time to time. Thanks to fast steep sets and long barrels this place has a lot of fun to offer. Killer Point always gets more swell than Anchor Point and can always be surfed as soon as the waves are knee-high. Small waves start at the north end of the cliff with a short left wave, as soon as it gets bigger, long right waves run here.
The spot works best during low tide, when you can walk along the cliffs to the first wave section. Outside low tide, you have to be prepared for 20 minutes of hard paddling. This seems to put off a few people because it's generally less crowded here 😉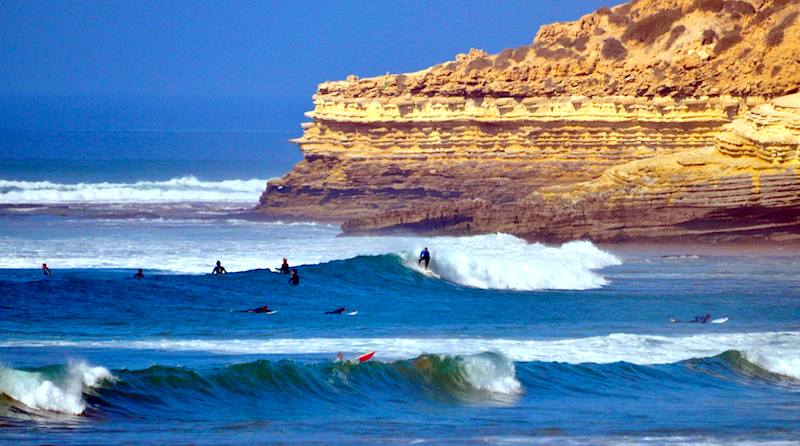 FACTS & FIGURES ON KILLER POINT
Wave type: Right pointbreak
Seabed: Sand and rock
Level: Advanced
Surf Spot 2: PANORAMA POINT
This long sweeping righthander sits right on the edge of Taghazout and breaks into a nice beach. On low tide the point is a very fast wave with multiple sections, some can barrel and some are unmakeable. As the tide fills in the wave gets a lot easier and mellow making it great for intermediates and beginners. The beach can be very forgiving and good for learning on high tide.
The current can be tricky to paddle against at times with water pushing down the point into the beach. Sometimes it's better to jump in from the point, surf down to the beach, walk around, and do it again.

FACTS & FIGURES ON PANORAMA POINT
Wave type: Right pointbreak
Seabed: Sand
Level: All levels
From all the surf spots in Morocco, you can check out the waves of Crocro directly from our terraces and walk to the beach. Crocro is a beach break, so it's perfect for beginners. But also advanced surfers will enjoy the right and left waves here. The name "Crocro" comes from the rocks at the spot, which are shaped like a crocodile.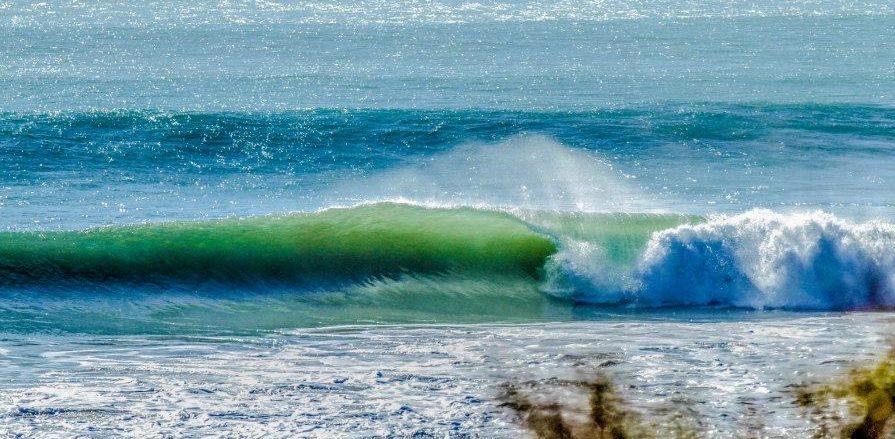 FACTS AND FIGURES ON CROCRO
Wave type: Beachbreak
Seabed: Sand
Level: All levels
Just a short walk from our camp is the Devil's Rock beach break. This popular spot has a right or left wave for every surfer. Many young locals meet at Devil's Rock to surf. The beach break is a popular venue for competitions.
Even if the name sounds a bit daunting, this devilish surf spot is suitable for beginners and pros alike. Here you can surf the perfect green wave. During breaks, you can enjoy the view of the mountains and villages of the region from the rocks. This spot also boasts one of the most beautiful fish restaurants in Morocco. Brahim serves hot coffee, healthy salads and delicious fish platters.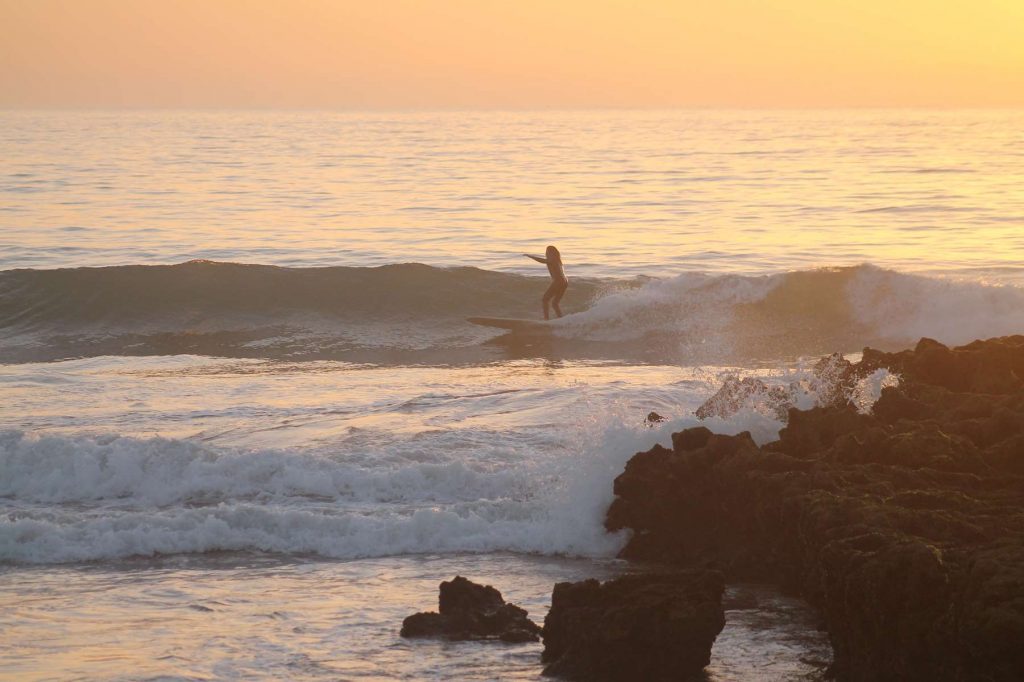 FACTS & FIGURES ON DEVILS ROCK
Wave type: Beachbreak
Seabed: Sand
Level: All surfers
Tifnit is a small fishing village about 30 minutes south of Agadir. It is famous for its small cave houses and individual fish huts. The quiet area around Tifnit is beautiful, and often you will find yourself completely by yourself. There are wild beaches and waves, which are especially suitable for advanced surfers.
The small sandy bay of Tifnit provides good waves with somewhat larger swells and is definitely worth a surf trip. Thanks to empty breaks, you often have the waves to yourself and can enjoy a long right-hander at low tide.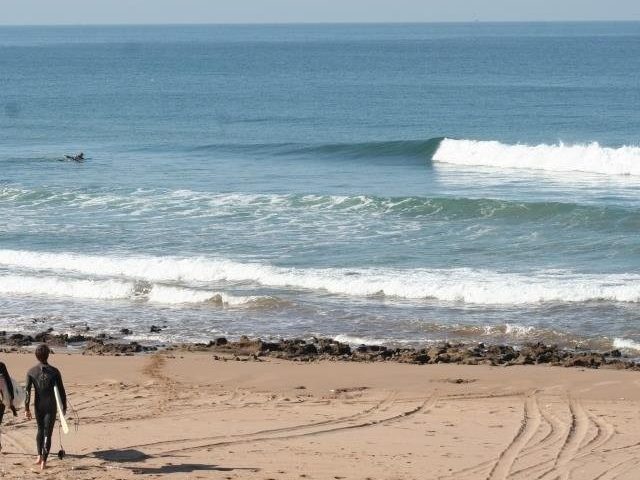 FACTS & FIGURES ON TIFNIT
Wave type: Beachbreak
Seabed: Sand
Level: All levels
SURF SPOT 6: ANCHOR POINT
One of the best surf spots in Morocco? Definitely Anchor Point! Die-hard fans even talk about the best wave in Morocco, which is why it's usually pretty crowded here, especially at low tide. Anchor Point is one of the classic right-hand point breaks that occur when there is a big north-west swell. 
Attention: The spot is not suitable for every surfing level, as it requires some skill. However, beginners will find many other beach breaks not far away with much better conditions to start surfing.
Anchor Point is only about one kilometre north of Taghazout, the Mecca of surfing. In Taghazout itself you will find surf shops, cafés, bars and a supermarket.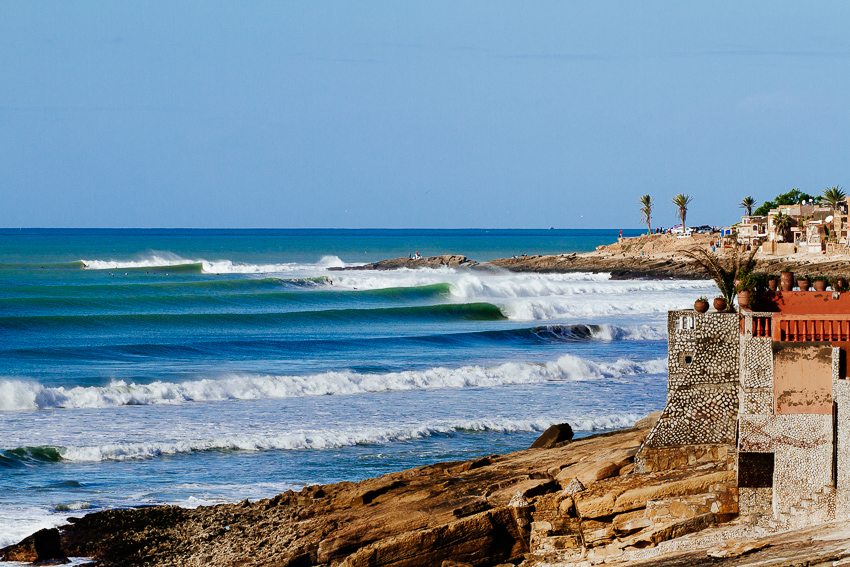 FACTS & FIGURES ON ANCHOR POINT
Wave type: Right pointbreak
Seabed: Sand and rock reef
Level: Intermediate, professionals
SURF SPOT 7: BANANA POINT 
Our home spot: Banana Point is only a few minutes' walk from Tamraght. It is a classic spot that offers gentle waves even with relatively large swells, which are also suitable for beginners.
The spot owes its name to the banana plantation in the riverbed. The massive right-hand wave of Banana Point is loved by longboarders and is great during low tide! Beginners can enjoy long and gentle waves that are easy to surf and forgiving of small mistakes.
Satisfy your hunger at Banana Village, famous for the best tajines!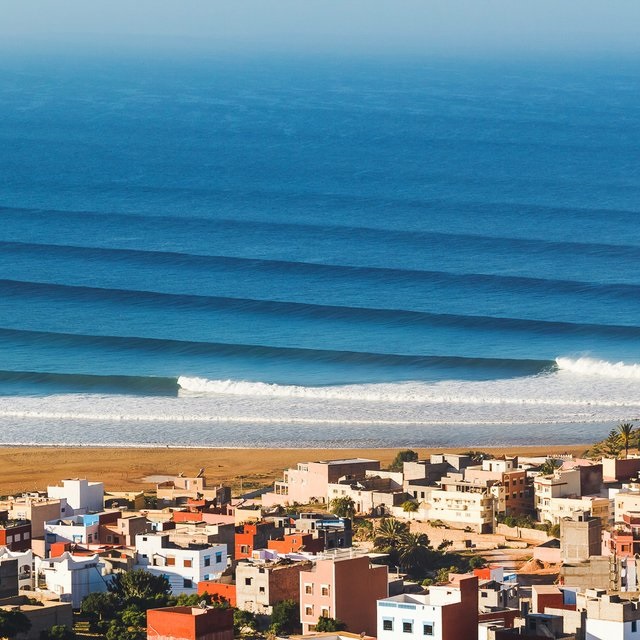 FACTS & FIGURES ON BANANA POINT
Wave type: Right pointbreak
Seabed: Sand
Level: All levels
35 min north of Agadir, huge right-hand waves build up on the reef break due to the wind from the mountains. Boilers is a spot for experts, with a very intense and steep right wave! It's best not to jump into the waves without experience and surf during low tide.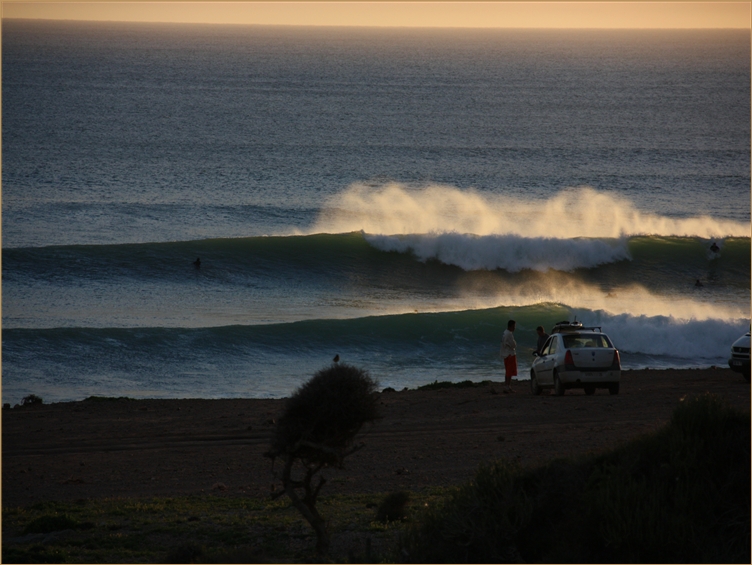 FACTS & FIGURES ON BOILERS
Wave type: Right pointbreak
Seabed: Sand
Level: Advanced
Tamri is a beach break north of Agadir, about 45 minutes drive away. It is located directly between the surf spots Boilers and Imsouane and is suitable for beginners as well as advanced surfers.
Tamri is a very consistent beach break with different peaks and always good waves – even on flat days! As a beginner, you should be careful as there can be dangerous currents from time to time. Therefore: Do not paddle out alone!
The waves at Tamri are usually surfable and very consistent even in summer, despite being windy. Tamri is also called the second Banana Village. No wonder: the whole village is surrounded by banana plantations.
Spot type: Beach break
Subsoil: sand
Level: beginners, advanced, professionals
Tide: All Tides
Imsouane is a small, dreamy fishing village in the south of Morocco, about 1.5 h drive north of Agadir. It is located directly in the nature reserve. Imsouane is particularly famous for its fishing and its fish hall with daily auctions. And of course, because the "longest wave in Africa" enchants longboarders in particular. During low tide, beautiful slow right-hand waves roll into the harbour at Imsouane. A dream also for beginners who want to stand on a wave for longer than a few seconds.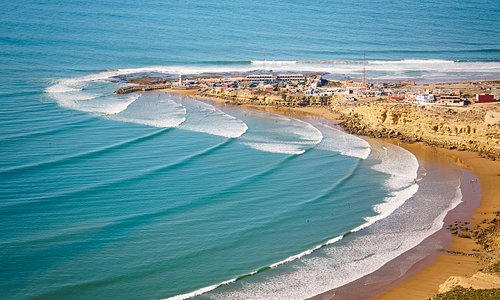 FACTS & FIGURES ON IMSOUANE
Wave type: Right pointbreak
Seabed: Sand
Level: All levels
Essaouira is a small, time-honoured coastal town and is one of the windiest places in the country. This is not the only reason why it is very popular among windsurfers and kitesurfers. You will find numerous surf shops in the town. Due to the offshore island and peninsula, there are only waves on a few days, so the spot is less popular among surfers. Surfers prefer Sidi Kaouki, the surf spot eight kilometres from Essaouira.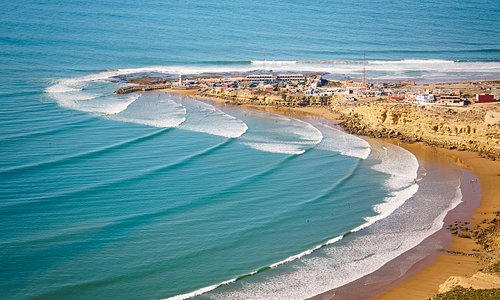 FACTS & FIGURES ON ESSAOUIRA
Wave type: beachbreak
Seabed: Sand
Level: beginner, intermediate
One holiday, all the surf spots
With our "Surf The Coast" package, you can visit countless surf spots in the region and be accompanied by real locals.