YOUR SURF CAMP IN TAMRAGHT
Dreaming of Morocco means picturing hand-woven baskets, lush palm leaves, rooftop terraces with sea views, … right? We'll make your oriental dreams come true! Just a 10-minute walk from the beach, a very special kind of surf hotel awaits you here in the middle of Tamraght. We call it Riad Ayour. A Riad is a traditional Moroccan house with a courtyard or garden in the middle. With great attention to detail, we have realised our heart's desire of a surf camp that welcomes you with a cosy feel-good vibe. Riad Ayour makes you feel at home and at the same time far away from home.

Your Holiday in our Surf Hotel With Sea View
Whether you're travelling alone, surfing with friends or going on adventures with your partner in crime, we have the right place for you. Over three floors, you'll find suites, double and single rooms, each with their own unique charm. Each room has either a sea view or direct access to our oriental garden and pool.  Throughout the Riad you will find cosy corners to relax: Sit back, read a book or enjoy the meditative sea view. If you're more in the mood for exercise, our yoga loft is always open to you, far above the rooftops of the village.
What else can you expect? Fibre optic WiFi throughout the hotel, a colourful collection of board games, a book exchange flea market and lots of music. Our family team is always there for you to fulfil your wishes.
Bed & Breakfast at Riad Ayour
You would like to book a room independently of a surf camp? No problem! We have put together an overview of our rooms and prices here. The price includes a rich, freshly prepared breakfast on our roof terrace. Come by and feel at home – we look forward to seeing you!
Traditional & Freshly Prepared: The Catering at Riad Ayour 
A vacation without good food? Better not! That's why we serve very, very tasty, traditional Moroccan dishes made from local organic ingredients every day. Our chef will prepare a varied menu of Moroccan recipes with Ayuervedic influence during your stay.
Breakfast on the Roof Top
To get you ready for a lively day, a rich buffet of homemade bread with different spreads, hummus, fresh fruits and vegetables and delicious Moroccan specialities such as Amlou awaits you. At our muesli bar you will find granola, nuts, dried fruits, yogurt and different kinds of milk from cow's milk to almond drink. Aside: Fill your cup with tasty tea or freshly brewed coffee. 
Lunch to go
If you book one of our surf camp packages, you can put together a delicious lunch package every day from different treats and take it with you to the beach. It's best to bring your own lunch box or borrow one from us for a 5 € deposit.
Dinner at Sunset
In the evening, our roof terrace becomes a cosy dinner location where we serve you a variety of dishes. Couscous, tajine or pastilla – there is always a vegetarian and a vegan option available. Just put a cross on our dinner list in the morning and everything will be prepared. Besides, you can enjoy a stunning sunset.
No matter if you book a Surf Camp or through our Bed & Breakfast offer, you can easily add dinner for 10 € per day and per person.
Special wishes? We are here for you!
Because we don't want you to lack anything if you have certain intolerances or allergies, we are always keen to offer other options, for example homemade gluten-free bread. If you have any special wishes or needs, we would be happy to receive a short email in advance. Whether vegan or gluten-free – we always want to provide you with delicious food.
In the Middle of Big City and Surf Stronghold: Relax in Tamraght
Westsurf Morocco's surf hotel is located in Tamraght, a dreamy Berber village right by the sea. Tamraght is 14 kilometres from Agadir and 3 kilometres from Taghazout and forms the quiet, relaxed middle of the two larger villages. Those seeking for action will find it mainly in the waves. Our house surf spot is just a 10-minute walk from the Riad. Other surf beaches and bays like Banana Point, Devils Rock or Panorma Point are only a short drive away. If you book a surf camp, you will get to know them all!
Everything you need right on site
Tamraght itself is a rather quiet place with a very relaxed vibe. Despite its small size, you will find everything you need for a relaxed surf holiday: small supermarkets, cafés and restaurants and a weekly market right behind our house. Not to forget: a long sandy beach and the view of the mountains of the Antiatlas.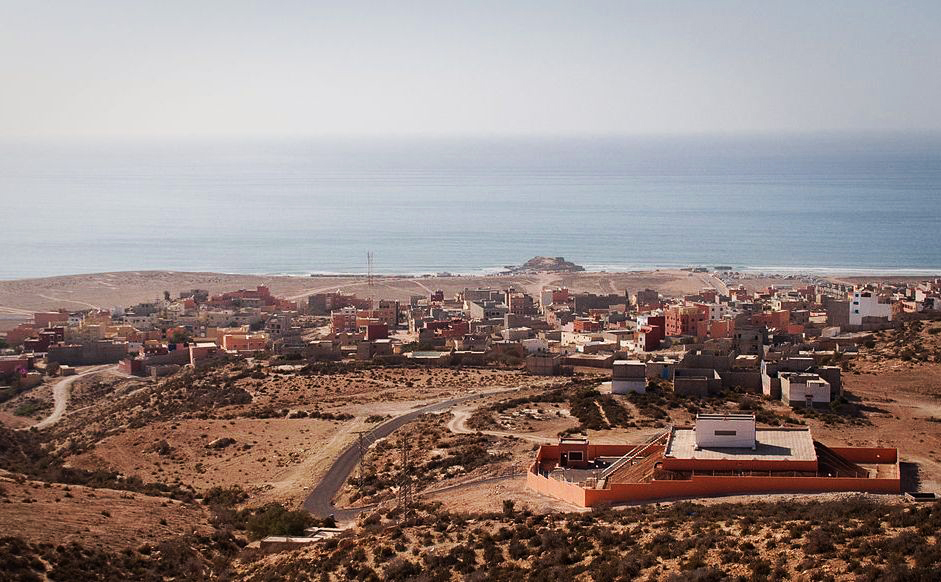 Experience Morocco
The people of Tamraght (and Morocco in general) are open, warm and happy to show you their culture. Whether it's on the beach riding a camel, buying fruit at the market or having a Moroccan mint tea in a café. Let yourself be enchanted by the hospitality.
If you don't feel like surfing and chilling out, there are plenty of things to discover in the region. Here we have put together the best activities for your holiday in Morocco.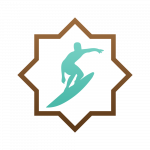 Select & Book Your Accommodation