Surfkurs "SURF THE COAST"
in Marokko
YOUR PERSONAL SURF THE COAST ADVENTURE
Our package "Surf the Coast" is an adventure that you'll never forget, guaranteed. You will discover the Moroccan coast with our professional surf guides and surf instructors and you will have the unique opportunity to dive deep into the Moroccan surf culture! The special thing about it: Not only will you get to know the local surf area of Agadir, but you will also discover the best spots Morocco has to offer up to 4 hours south or north. Be at the right spot at the right time, this is the motto here.
What could be better than surfing in the early morning, empty lineups, and your own personal surf guide and surf instructor always in "your baggage"?
The package includes all meals; breakfast, lunch, and dinner – so you're ready and well strengthened for the waves at any time. Along the way, we take care of all the accommodation, where ever the waves may take us. Be ready for the ultimate Surf trip with the best Moroccan Tajines and Cous Cous.
P.S. Package minimum 4 people!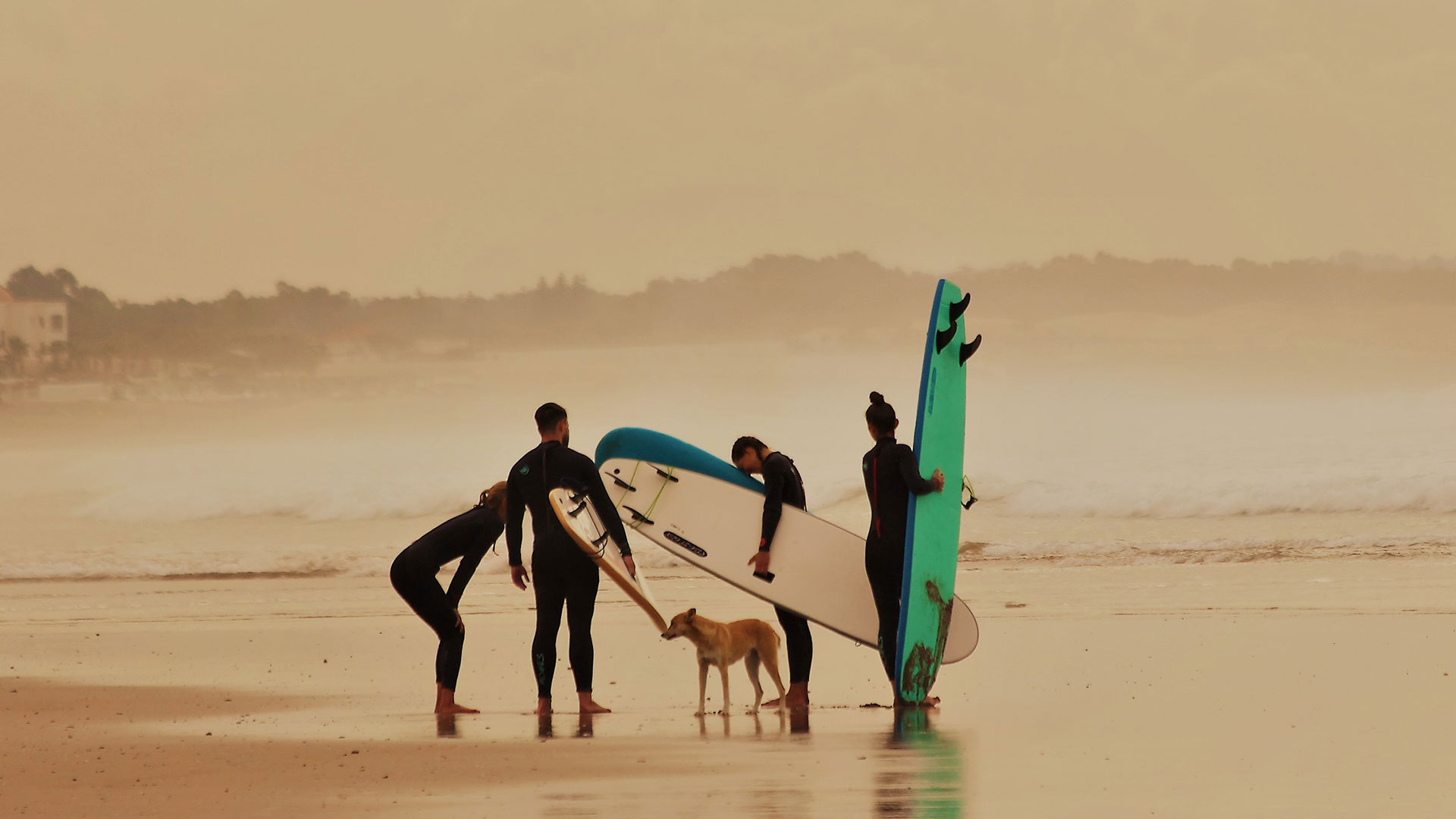 Surf the Coast daily schedule 
A week for explorers. With this package you will have the opportunity to travel up to 5 hours to the south or north, depending on the conditions. So get ready for the ultimate trip on the endless Moroccan coast. Every day "Surf the Coast" is looking for the best spots and the best wave for you and your surfing level. You will stay the first night in our villa in Tamraght, not far from the airport. The next day it really starts: You will spend about 2 hours in the next accommodation we have chosen and from there you will discover the coast. That means: You don't have to repack it again and again, but you can sit back and relax.
Have you booked surf lessons or surf guiding for the Surf The Coast package? Both will be adapted to your level and the group will be max. 6 people.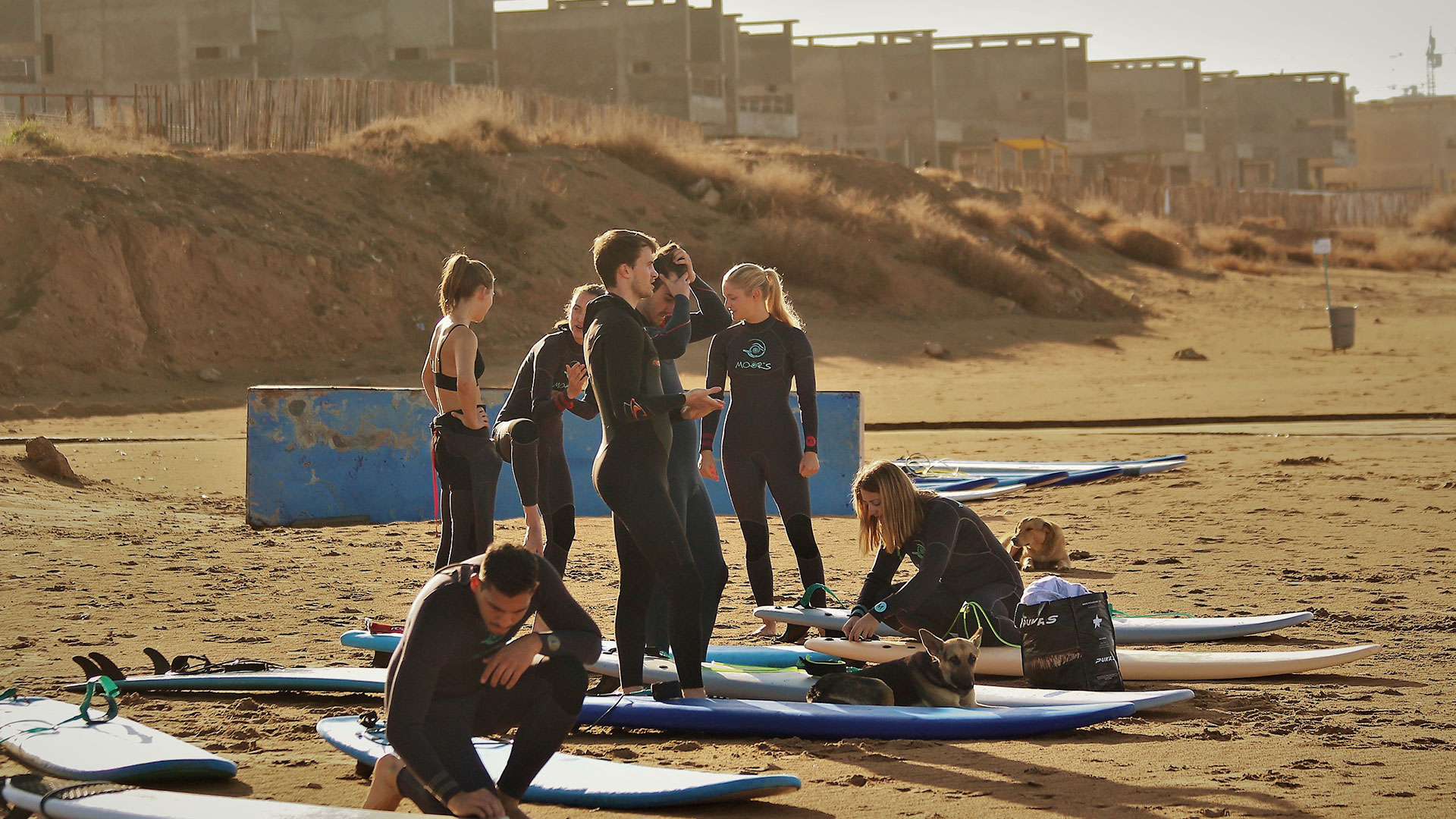 A rich breakfast is waiting for you from 8 a.m. If it starts particularly early, we have breakfast after the first surf session.
At noon, around 12:30 p.m., there is a picnic on the beach. So you can strengthen yourself for the next surf session.
1:30 p.m. it's called: Guided free surfing sessions, for all guides or surfing students to deepen what they have learned.
4.30 p.m. it goes back to the accommodation to maybe surf the waves on the house beach again during the sunset. Or you can just relax and enjoy the Moroccan sun until it disappears on the horizon.
Our freshly prepared traditional dinner awaits you at 7:30 p.m.
Please note: The times may vary depending on the surfing conditions.
The "Surf The Coast" surf course includes the following services
7 NIGHTS SURFING THE COAST
Perfect for beginners to professional surfers who are looking for an adventure!
From April 1st to October 31st only € 750 and once for 3 people or more
Transport to and from the airport (Agadir)
Accommodation directly on the spot with full board
Surfari on Morocco's coast to the best spots
Surf lessons or surf guiding 6 days
Very good qualified surf equipment 7 days
Wifi in the accommodations
Lokales Wissen vom West Surf Morocco Team
1 theory lesson per week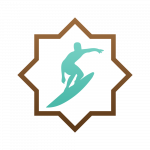 Select & book a surf package