Find the Perfect Wave with Surf Guiding Morocco
Planning your holiday has only one criterion: finding good waves to surf. You surf at an advanced and safe level and want to find out if Morocco really is the surf mecca that so many rave about? It is! And we'll show you the best spots. Our surf guiding offer is specially designed for good surfers who want to surf the best waves in Morocco – without hours of research and in good company.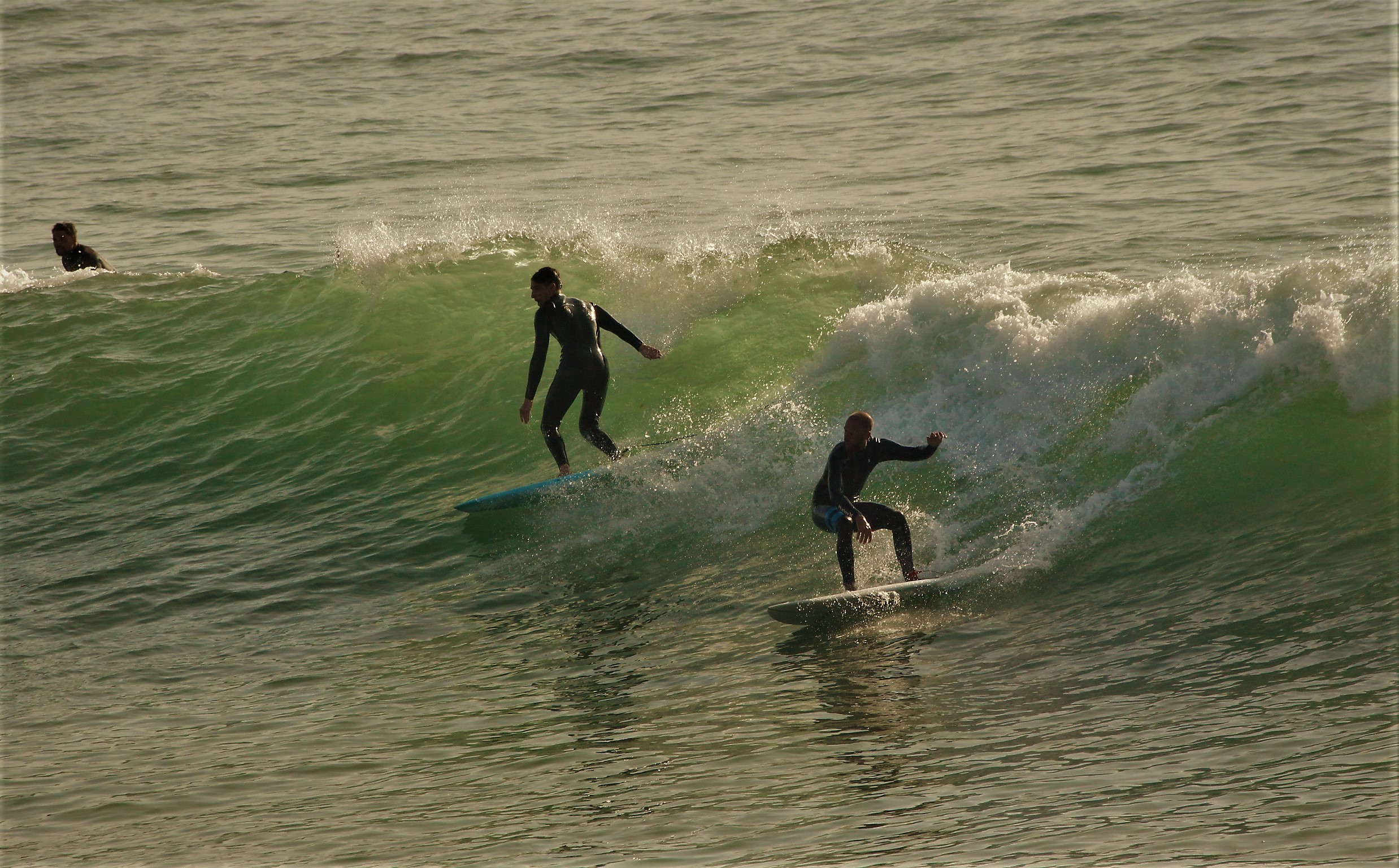 Surf Guiding is a service offered by surfers who grew up in the respective surf region or have lived there for a long time and know their way around. Surf Guiding is not a classic surf course, but more of a detailed introduction to local surf spots and their characteristics. You learn what to look out for where and get valuable tips on surfing at a particular surf spot.
Your Access to the Surf Community in Morocco
If you are looking for a community experience when surfing, then Surf Guiding is the right place for you. Our team consists of surf-crazy locals. Their motto: "Let's be family!" Your guide will paddle into the line-up with you, giving you valuable tips. Together you will celebrate your successes, and you'll get support if something doesn't work out. You enter the water as a team, but still you enjoy the freedom to develop yourself. Surf Guiding is the convenient way to get to know the real treats of Morocco's surf spots and at the same time become part of Morocco's nicest surf crew.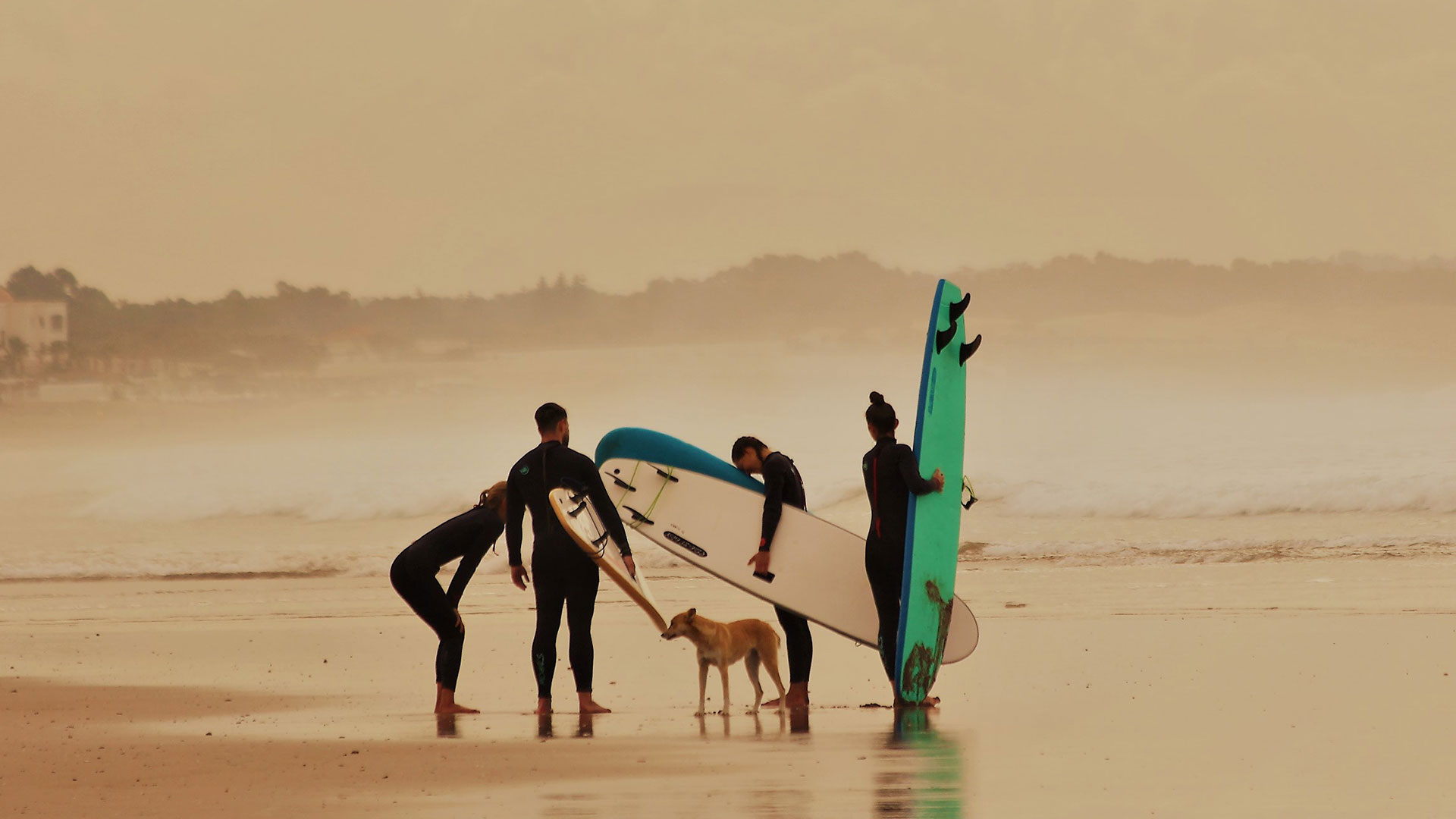 "With the guiding package, I got to experience all the surf spots in the region for a week with Ayoub. With early and sunset sessions we were able to get the best out of each day. Thank you for a holiday I will never forget. See you next year."
Dylan
"As I am a bit more experienced in surfing, I always booked surf guiding. There were always good spots chosen for my level. Our surf guide Ismail or Aziz always explained the spots well and what to look out for. Surf the Coast is also highly recommended. I have been there 6 times so far and there will be a few more."
Simona
Our Surfboard Selection for You
If there is no more room in your luggage for your own board or if you would like to try out different shapes, you have the free choice with us: we offer you a large selection of top boards of different brands. For only 30 € you can rent your personal surf equipment for a whole week.
Even without a guiding package, you can rent surfboards for 10 € per day. Our equipment is well maintained and of high quality and is ready for your next surfing adventure.
Your Day with Surf Guiding
What does a typical day of surf guiding look like? We'll show you, so you can get a taste of that holiday feeling. As every day brings different conditions for surfing, the exact times can of course vary slightly. 
Important for you to know: This is what a day could look like. If you need a (half) day off from surfing, you can of course relax under the Moroccan sun or do one of our many other activities.
from 8.00 Early Bird Session or Breakfast
Depending on what the waves have to offer, you can either get up early and get straight onto the board or start the day with a nutritious breakfast on our roof terrace. Tea, coffee, muesli, bread, hummus, Amlou, freshly squeezed juice and other snacks will get you ready for the day.
9.30 Briefing & Departure to the Surf Spot
Your surf guide will discuss the waves and conditions for the day with you. Then we'll get your surfing equipment ready, and are off to the spot of the day.
10.00 Spot Check & Surf
Once at the beach, you will learn everything there is to know about the conditions and characteristics of the spot before the surf session begins.
12.30 Lunch time
To recharge on some energy, we either have a delicious picnic lunch on the beach prepared for you by our kitchen or head back to the Riad for lunch.
13.30 Back to Surfing
Depending on the waves and your power, there will be a second and third surf session in the afternoon.
16.30 Back to Camp
Optionally, you can book yoga in addition to surf guiding and pamper your body with a targeted stretch session in the afternoon. 
19.00 Food, Food, Food
Every day, our kitchen team gives its all to enchant you with traditional, varied dishes of Moroccan cuisine. In the evening, all surfers and Riad residents come together at our large table. It's the perfect place to talk about your progress, your successes and even your little failures in the water over a good meal. At the same time, you can watch a fantastic sunset.
The surf guiding surf course
includes the following services
7 NIGHTS SURF GUIDING PACKAGE
Tamraght: 465 €
 Pick-up and drop-off service at Agadir airport
 7 nights in our Riad Ayour
 Healthy breakfast (pack a lunchbox for lunch at the beach)
 "Surfari" (including spot check) to the best spots 6 days a week
 "Surfari" up to 2 hours north or south
 Professional surf guide for 6 days
 High quality, certified surf equipment to rent for €30 a week
 Trip to the souk (market) in Agadir, depending on the conditions of the waves
 Wifi in the entire Riad
 Pictures from your surf sessions
 Photo analysis once a week
 Theory lesson once a week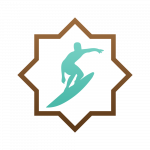 Select & book a surf package