Surf & Surfskate Camp Morocco
Surfing the Waves and the Streets in Your Surf & Surfskate Camp in Morocco
You finally want to learn to surf or get better at it? Surely, spending a lot of time in the water and riding one wave after another helps. But there is also another way to improve your balance, your technique and your body awareness in the long term. All you need is a surfskate that allows you to practice on land.
At our Surf & Surfskate Camp you can learn and train both in the water and on land. Join our crew: During your surf sessions in the water and surf skate lessons in the skate park, our professionals will be right by your side to get you safely onto the boards. Enjoy a week in the middle of Morocco's relaxed, warm surf community and experience the flow of surfskating!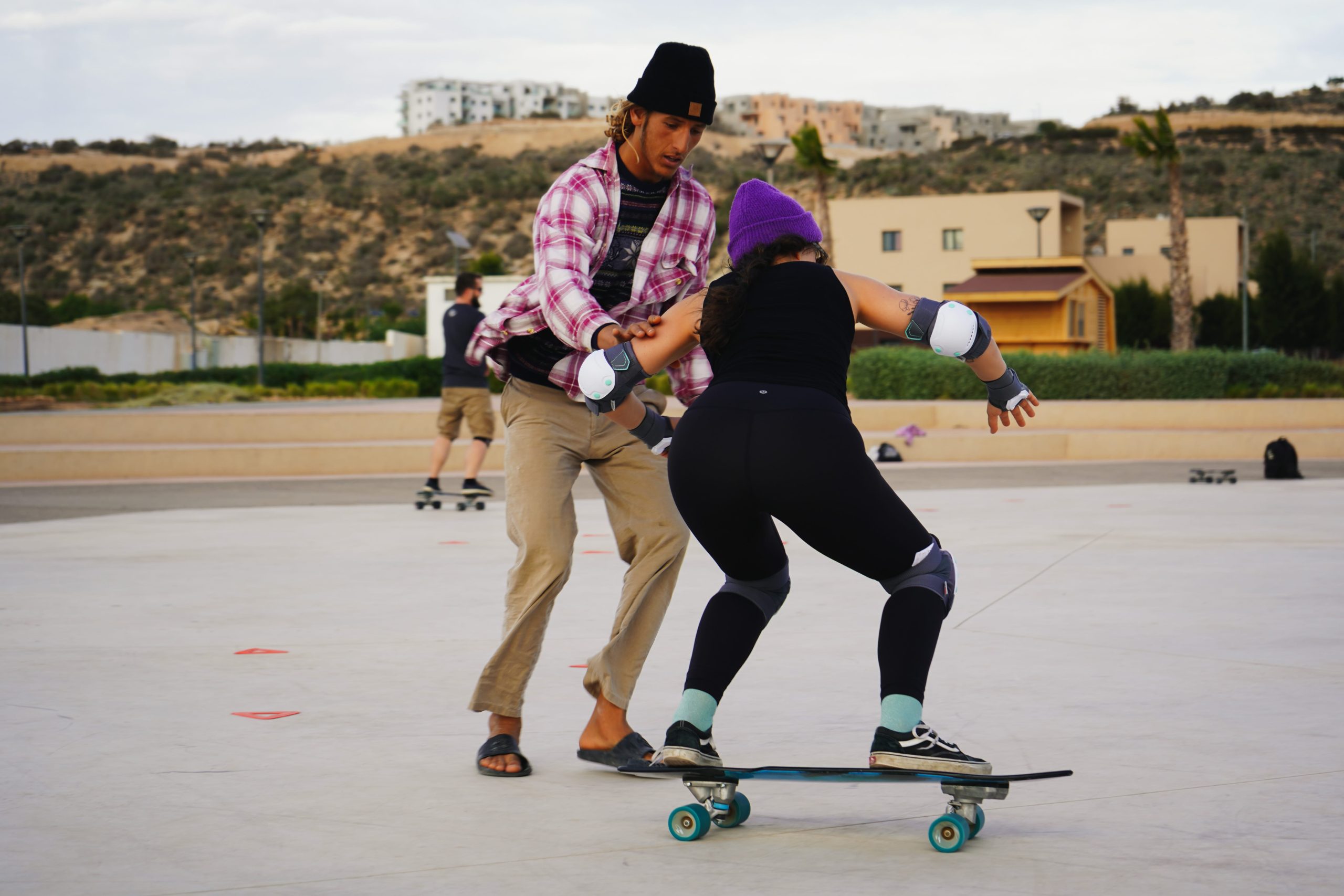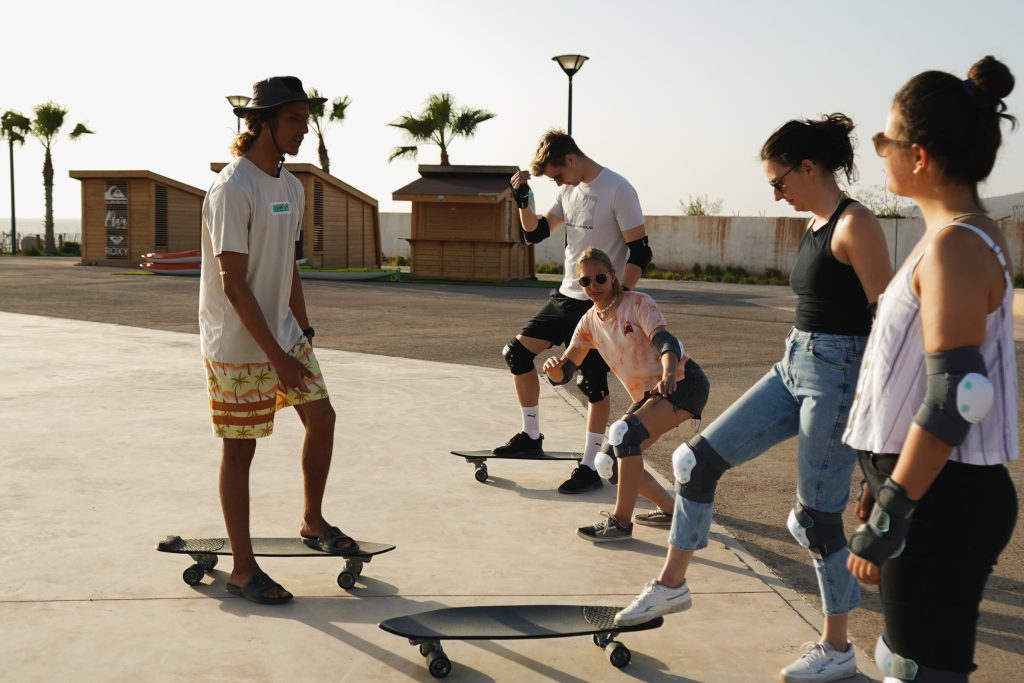 Surf & Surfskate – A Perfect Match!
Surfing requires a colourful mix of different skills. It's all about timing, balance, body control, agility and fitness. If you have all of these in your skill repertoire, the much-vaunted flow will come about all by itself. Sounds super easy, but "unfortunately" it takes a lot of training and stamina. The combination of surfing and surf skating fits perfectly into this training schedule.
If you struggle with some moves in the water, you can use surfskating to practise on solid ground and train your muscle memory. So when the next wave rolls in, you're stronger and more relaxed because your body knows what to do.
Find out more about surfskating and your coaches Ayoub and Mohamed here.
Your Spots for Surfing and Surf Skating
You can take it from us: Morocco is a surfer's paradise! On the coast around Agadir, one surf spot follows the next, with waves for beginners, advanced surfers and surf gods and goddesses 😉 Our Riad is located in the heart of the small, quiet village of Tamraght. From here, we take you to the spot with the best conditions every day. All you have to do is trust our surf experts and look forward to your next session.
Your second home will be the skate park. With its smooth asphalt surface, bowls and ramps, you'll find the perfect conditions to learn surf skating from scratch or to try out new tricks straight away.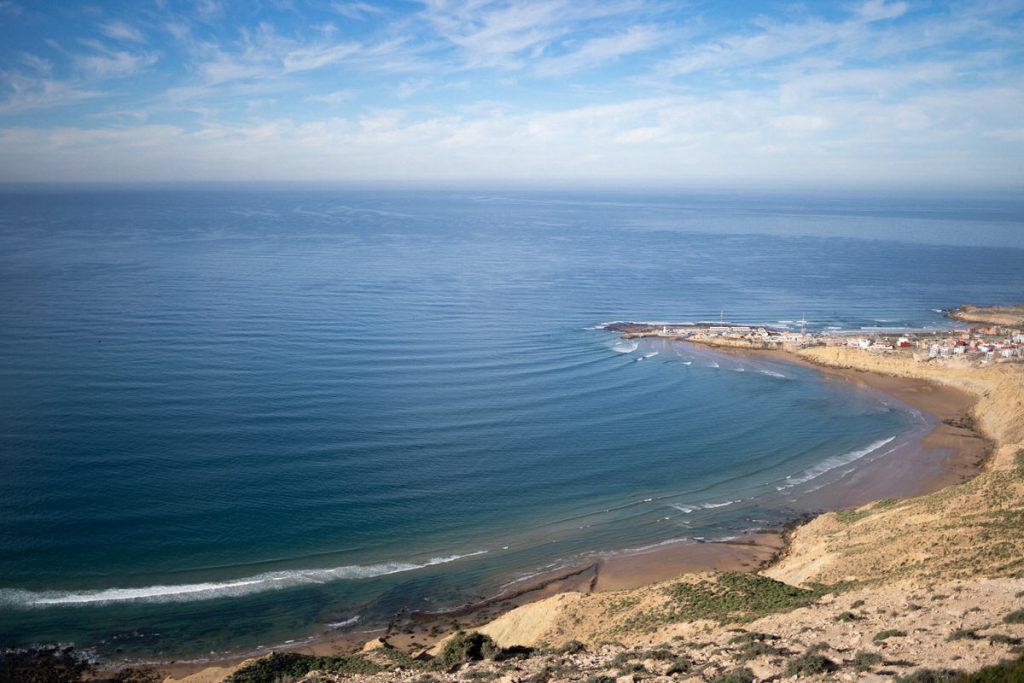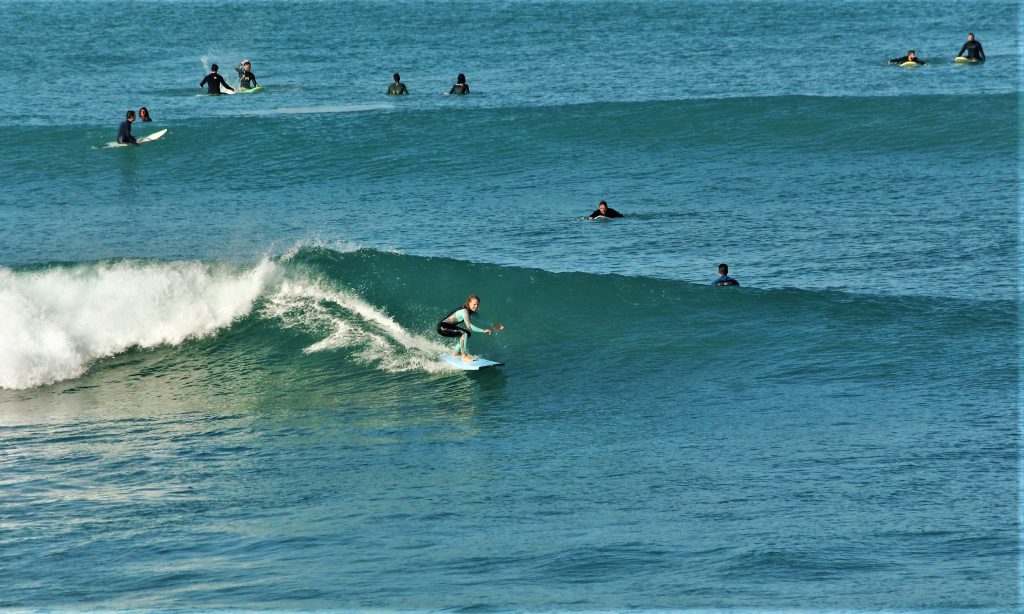 The Right Surf Course for You
First time on the board or already confident in the green waves? We tailor our surf lessons exactly to your needs and teach in small groups of maximum 6 people. You can find out more about our surf courses on the respective pages:
First time in the waves? Check out our surf lessons for beginners!
Already (a little) experienced? Have a look at our intermediate surf course.
You surf on a very good level? Surf Guiding is the right choice for you!
Our Equipment for You: Surfboards and Surf Skateboards
Don't you worry about big surfboard bags and extra luggage – we got you covered! We offer surfboards in many lengths and shapes as well as high-quality and well-maintained surf skateboards. All you need to do is switching your holiday mood on and bring the joy of movement.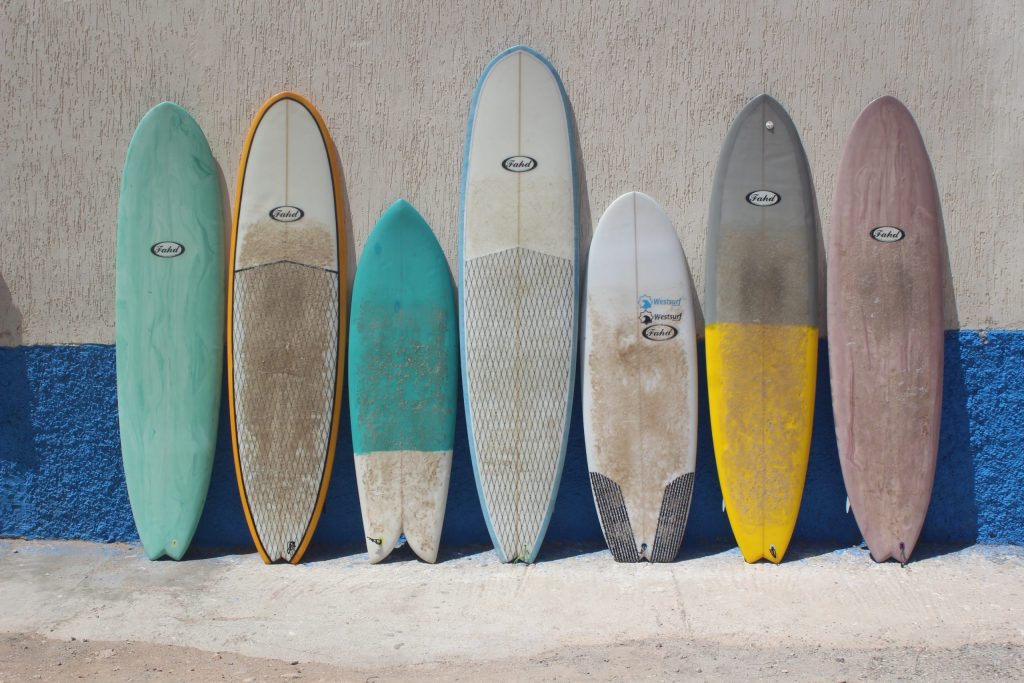 The Surf and Surfskate Camp
Includes the Following Services
7 DAY SKATE AND SURF COURSE
Your Surf and Skate Coaching Package and
includes:
Tamraght: 560€ per person
Transportation from and to the airport (Agadir)
Accommodation with excellent breakfast and lunch 7 nights
Transport to the best spots 7 days
Surf course/professional surf instructor 6 days
3 x surf skate lessons 2 hours each
Tested very good surfing equipment 7 days
Protection for your skate session & a surf skate
Professional surfskate instructor
Photos from your surf & skate sessions
Photo analysis at Intermediate Coaching
One theory lesson per week
Free Wifi in the villa
Local knowledge from the West Surf Morocco team
Transportation to Surfskate Park
For special group inquiries or individual coaching, please send us an email. 
Book a single lesson on-site for €25 per person and includes:
Professional surf skate instructor
Protection for your skate session & a surf skate
Surf skating lesson 2 hours each/li>
Pictures from your skate session extra 5 €./li>
For special group inquiries or individual coaching, please send us an email.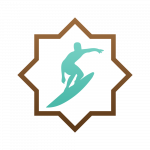 Select & book a Surf & Skate package