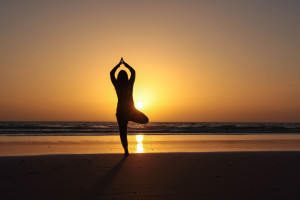 What do all professional surfers like Kelly Slater, Rochelle Ballard, and Gerry Lopez share? Correct! All of them have been practicing Yoga for years. It helps them not only to be successful at Surfing, but it helps them also in their own daily life.

WHAT IS YOGA SURF ALL ABOUT?
Surf Yoga is the perfect combination: Yoga helps you to build up the necessary strength, flexibility, and balance, which you need for surfing. But not only that! With breathing techniques, You can increase stress. Every surfer knows that moment when a big wave is breaking just in front of you.
In addition, Surf Yoga is physically a great way to keep fit, prevent injuries, for warm-up before surfing, or for stretching after a long surf session.
5 REASONS WHY YOU SHOULD COMBINE SURF & YOGA:
One of the greatest benefits of yoga is that you learn to breathe correctly.
Breathing through the nose increases your lung capacity, so you can hold your breath longer.
With long and quiet breathing, you can avoid panic in the water.
With yoga, you build up body tension, control, and balance.
In water, your muscles are always tented. Surf Yoga offers the opportunity to stretch your muscles and prevent soreness.
More and more guests come to us because they have heard about the positive effects and want to combine yoga and surfing together. The times when Yoga was purely reserved for mystics are long gone. Even in the camp now we offer a special Yoga Surf Retreat Package, where you can combine surfing and yoga during your stay with us.